Benefits of a Smart Ceiling Fan (Like the KDK Airy!)
These days, smart homes are all the rage.

Smart ceiling fans are smart home-automation products that can help reduce your overall energy cost- along with providing some much-needed convenience & comfort to your home. Let's go through some of the benefits that the KDK Airy smart fan could bring to you!
Sophisticated Wifi-Control
Besides great efficiency, smart ceiling fans are sophisticated in their operation.
Unlike your typical ceiling fan where the only connection is a pull cable or wiring within the wall, the KDK Airy uses Wifi-technology. Simply pair them with your smart phone, and you may seamlessly control them via your phone. No more looking for a remote control or walking up to the controls!

That means you can operate your fans even while you're away from home using your iOS or Android device.
Other than smartphone control, smart ceiling fans also provide various sophisticated functions.
Dimmable Lights
The KDK Airy offers a plethora of brightness levels to suit your preferences.
Using the KDK Ceiling Fan app, simply slide and adjust the brightness & change the colour temperature. For example, a dimmer warm light might be more suitable for romantic nights-in, while a brighter cool light would be more suitable for your eyes while doing work.
As previously mentioned, light settings can also be scheduled in advance, so you may not even need to control your smart ceiling fan throughout the day – and can fully focus on the things that matter.
Scheduling
Program automated schedules and remotely control your ceiling fan from anywhere with your smartphone!
This includes creating your own schedule for when the ceiling fan should operate – and at which settings (e.g., fan speed, fan mode, desired light setting) to fit into your lifestyle.
So, if you are on your way home and would like the room to always be nice and cool upon your arrival – simply schedule that in! This ensures that your ideal room temperature is ready for you when you return home.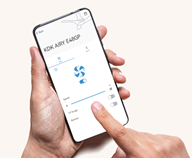 Never worry about leaving your ceiling fan on when you leave the home! You can simply schedule the fan to be turned off after you leave the house, or remotely turn the fan off using your phone.
No more forgetting to turn off your ceiling fan and wasting energy!
For those with a consistent routine, being able to program an on/off + settings schedule will allow you to save lots of time.
Reverse Mode
Reverse mode means that the fan blades are able to spin in the opposite direction. This gives you the option of having the ceiling fan create breeze, or to draw air upwards to circulate it better. This function is great when paired with an AC unit, as it allows cool air to be distributed faster and more evenly. This means more effective air cooling!

1/f Yuragi Function
A feature unique to only KDK fans – the 1/f Yuragi Function mimics natural breezes by varying the fan speed periodically. This function actually helps our body to cool down faster and prevents tiredness as opposed to receiving a constant stiff wind! Great for long periods under the fan!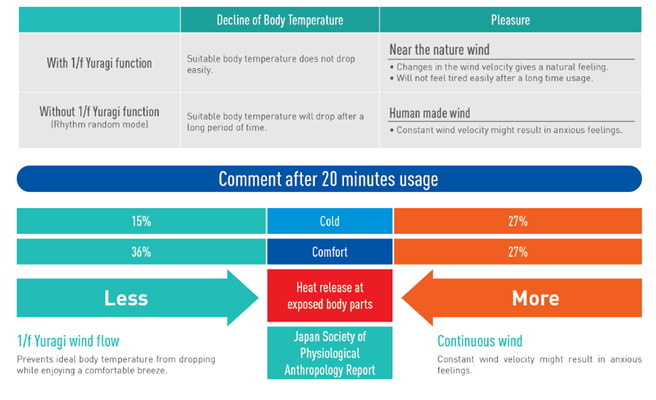 New 3D Blade
The KDK Airy comes with an upgraded blade design – our new 3D blade.
The blade design likens an owl's wings, ensuring minimal noise disruptions throughout the day and night.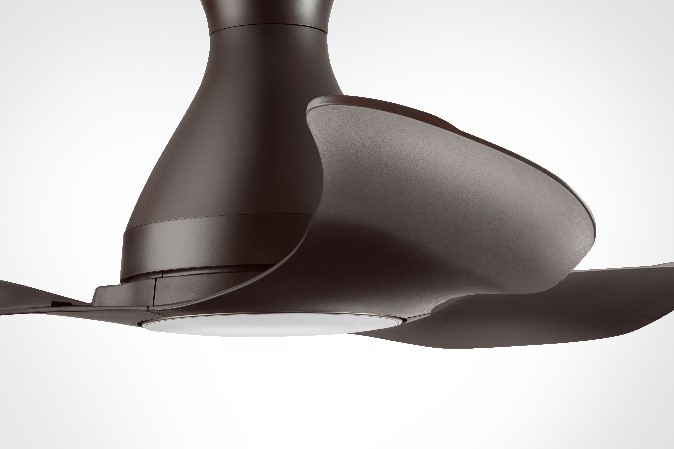 Should you get a smart ceiling fan?
There are many benefits of having a smart ceiling fan, spanning from financial savings to improved quality of life.
Not only is there an increased convenience of smartphone control, there is capability to minutely adjust your ceiling fan to fit into your unique lifestyle habits. (Including fine-tuning them to hit that sweet spot of slight cold breeze to improve your sleep quality!)
There's also one less thing to worry about – whether it be accidentally leaving the ceiling fan running with no one home, to having the perfect temperature in your house at all time.